Willkommen auf den Webseiten des bilingualen Studiengangs Master "Betriebswirtschaftslehre – Energy and Finance" (M.Sc.)
In den vergangenen Jahren ist deutlich geworden, dass die Liberalisierung der Märkte für Strom und Gas in Deutschland und Europa die Struktur der Energiebranche tiefgreifend verändert hat. Vertreter der Energiewirtschaft sehen sich zunehmend mit neuen Herausforderungen konfrontiert, welche mehr denn je eine fundierte Ausbildung erfordern. Neben den gestiegenen Kapitalmarktanforderungen an Unternehmen zwingt der größere Wettbewerbsdruck in der Branche zu einer stärkeren Kundenorientierung und einer konsequenten wertorientierten Unternehmensführung.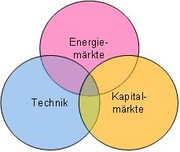 Die Universität Duisburg-Essen begegnet diesen Herausforderungen mit einem einzigartigen, interdisziplinären Studienangebot. Die enge Verbindung von Technik, Energie- und Kapitalmärkten erfordert eine Vielzahl unterschiedlicher Kompetenzen, die wir Ihnen während des zweijährigen Masterstudiums vermitteln. Die bilinguale Ausrichtung des Studiengangs trägt vor allem der Internationalität des Bereichs Energie- und Finanzwirtschaft Rechnung. Wir bereiten Sie damit auf Tätigkeiten bei Unternehmen der Energiewirtschaft, Banken und Finanzinvestoren, Beratern und in der öffentlichen Verwaltung vor.
Der bilinguale Masterstudiengang BWL - Energy and Finance der Universität Duisburg-Essen richtet sich als konsekutiver wirtschaftswissenschaftlicher Studiengang an besonders qualifizierte, leistungsorientierte wirtschaftswissenschaftlich oder mit wirtschaftswissenschaftlichem Bezug (Wirtschaftsingenieurwesen, Wirtschaftsinformatik, Wirtschaftsmathematik) ausgebildete Bachelorabsolventen.

Der Masterstudiengang BWL – Energy and Finance (M. Sc.) der Universität Duisburg-Essen ist in der gemeinsamen Fokussierung auf Energie- und Kapitalmärkte einmalig in der betriebswirtschaftlichen Ausbildung in Deutschland. Neben der Vermittlung betriebswirtschaftlichen Fachwissens steht die Aneignung speziellen Wissens in Energiewirtschaft gepaart mit dem Erwerb von Kompetenzen in Finanzwirtschaft im Vordergrund des Studiums. Abgerundet wird das Studienangebot durch den bisher einzigen Lehrstuhl für Energiehandel und Finanzdienstleistungen in Europa. In Verbindung mit dem bereits exisitierenden – und in der betriebswirtschaftlichen Ausrichtung weitestgehend einzigartigen – Lehrstuhl für Energiewirtschaft entwickelt sich Essen damit zusehends zu einem Zentrum für energiewirtschaftliche Forschung.
Die Zusammenarbeit mit den Lehrstühlen für:
machen Essen zu einem Kompetenzzentrum für Energiewirtschaft und Finanzwirtschaft. Dieses geht unmittelbar einher mit den aktuellen internationalen Forschungstätigkeiten, welche finanzwirtschaftliche und finanzmathematische Methoden mit energiewirtschaftlicher Branchenkenntnis verknüpfen.
Darüber hinaus sieht sich Essen selbst als "Energiehauptstadt" mit dem Sitz national und international bedeutsamer Unternehmen wie RWE, E.ON Ruhrgas und Evonik-Steag.
Ab dem Wintersemester 2015/16 wird der Studiengang als bilingualer Studiengang angeboten. Die Verpflichtung einen Teil der Prüfungsleistungen in englischer und einen weiteren in deutscher Sprache zu absolvieren, ermöglicht eine Aneignung von Fachwissen in zwei Sprachen, sodass die Studierenden für den internationalen Arbeitsmarkt und international ausgerichtete Unternehmen vorbereitet sind.
Ansprechpartner / Kontakt
Gern können Sie Ihre Fragen an uns richten und mit uns in Kontakt treten.